Dear Visitors

This new page will feature, as time goes on, testimonials, both written and video from people who have experienced my performances and/or teachings. Enjoy!!!

Sincerely Martin Espino 

RE: FOLLY BOWL "Concert for adults outdoors at night" on Saturday, August 8, 2015
Here is the comment left in a Facebook message from James, one of the Folly Bowl concert organizers:
"Thank you Martin, your music was transporting and beautiful. Everyone was amazed by your range of beautiful instruments and the creativity with which you explored them."


RE: 2015 FLUTE RESIDENCY (3 days, an hour each day)
I am a third grade teacher for the Little Lake City School District.  I was able to request Martin's flute residency at my school for our third graders thanks to the Little Lake Educational Advancement Foundation, (LLEAF) grant.  Our third graders enjoyed the opportunity to personalize and own their very bamboo flute. They were taught instrumental techniques, culture, geography, and more. It enhanced their creativity as they composed their own melodies. It was very rewarding to see my students flourish in this area of the arts while enjoying Martin's fun-loving teaching style.
Thanks Martin,
Veronica
RE: 3 MIDDLE SCHOOL ASSEMBLIES - May 2015
YOUNG AUDIENCES INC. of Kern County (on this artist roster since 1998)
I heard back from school, .....Principal Mrs. Short raved about your presentation, she said the kids loved it and as well as the teachers who were in attendance.

I'm going to be sending a message out soon to all of the YA teaching Artists about participating in a Showcase featuring you and what you do and inviting school principals and superintendents to this event. The event would be in late September 2015.

Office Manager, Arts Council of Kern
Testimonials 2013: short version
Testimonials 2013 long version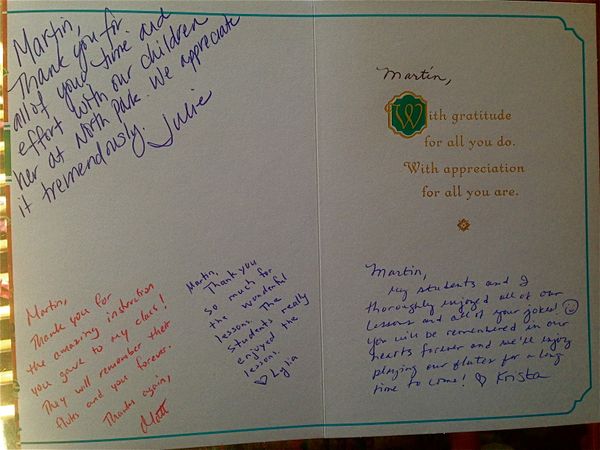 Below is letter from Lynn Kleiner, director of MUSIC RHAPSODY and highly respected teacher and childrens' artist. I have worked with her every summer for about 20 some years for her summer camp...at each of these camps, I would have kids of all ages and abilities and I would have two weeks to complete varied instruments every year because many of the same kids returned. You can see some of these students in Video posted here, those young adults were little kids when I taught them year after year!!! Here is Lynn's letter of thanks.